Sidewall Cutting
Ski Sidewall Cutting
In order to achieve an acute side edge angle it may be necessary to cut away the sidewall with a sidewall cutter. Take the time to shave the sidewall down in thin layers, avoiding to dig into the sidewall and cut away chunks as this will produce a rough surface that will add drag. Any form of drag translates into unnecessary friction. Sidewalls spend a lot of time in the snow, so they must be smooth and polished; smooth with 220-grit Silicon-Carbide (SiC) sandpaper and polish with 400-grit SiC. Fluoro paste wax works well to keep snow off of sidewalls and reduce drag.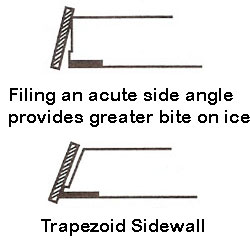 Important Considerations
Note that the sidewall is not cut down to the metal edge. Sidewall material is needed to support the edge.
Find out whether you have a laminate or cap construction (see pictures). We have several sidewall tools with different blade shapes. Keep in mind that the edge needs support material for strength and the rounded sidewall produces a thin support structure; ask advice before attempting.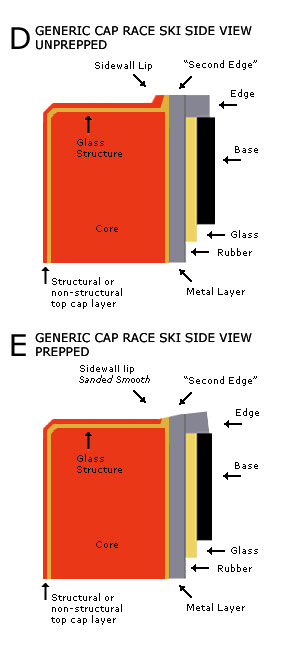 More on Sidewall Removal